Stuffed Rag doll Kitten, how to make
Sitting Ragdoll kitten with seal point, white mitts and blue eyes.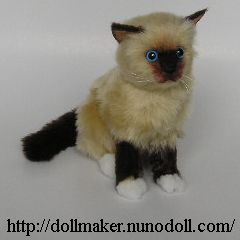 Height (to the crest) 20 cm

This is a handsewn toy.
This kitty was made with 3 colors of fur. You may make monocolor cat.
Patterns
Print Pattern out on A4 paper.
Then cut out.
Materials
Fur cloth. Beige (semi long hair), brown and white (short).
Felt (for inside ears and the neck).
Joint 3.5 cm.
Plastic or glass eyes. 11 - 13 millimeters.
Polyester fiberfill.
Thick thread (for mouth and toe).
Gut (for whiskers)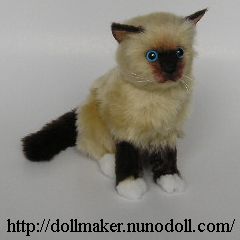 Instructions
Stuffed cats gallery
Ragdoll bicolor / Tabby kitten / Persian / Mini cat / Kitten / Gray and white / American Shorthair
Angora / Munchkin / Scottish Fold / La Perm / Russian Blue / Norwegian Forest Cat / Big black cat






Boy Dolls / Life size kids / Anime Dolls / Nekomimi Dolls / Mermaid / Stuffed Animals / 人形 / ぬいぐるみ