Slim and tall boy doll with curly hair.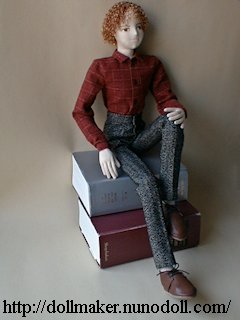 31 inch boy doll.
The body and clothes are elaborate.

Other pictures.
He is in a big cardigan.


You can make a doll like this.
I provide printable patterns and detailed instructions.
But it's not very easy for a novice in dollmaking.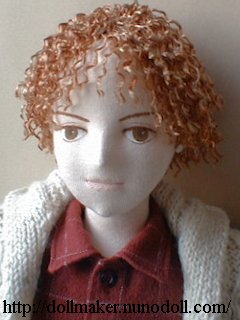 Instructions
Pattern is printable.
Leg has knee joint.
Arm bends at the wrist and elbow.
Body
Head
Face. Eyes with long lashes.
Composition
Hair and ears.

Shirt
Trousers. Slim pants.
Shoes and socks.
Cardigan and mittens of ecru wool.
Brief and boxer underwear.
Links
Boy Dolls. Gallery of cloth dolls.
Anime character dolls. Inspired by anime and manga.
Nekomimi dolls. Girls and boys with cat's ears and tails.
Bridal dolls. Doll in wedding dress.
Stuffed animals Dogs, cats, horse, bat, snakes.
Life size dolls. Babies, toddlers, girls, boys, and men.
Mermaid Fantasy. Mermaid and merman doll gallery.
Nuno Life. Creative blog.
Sewing. Gloves, bag, shirt, pincushion, cake, and so on.
Hanty. Handmade underwear of handkerchief.
Cute Underwear Making for men.
人形 ぬいぐるみ

Copyright © 2014 Runo. All rights reserved.