Cloth Doll Making » Clown pouch
Clown Pouch
In the long belly, you may put pajamas or something.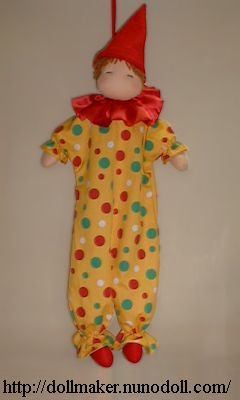 70 centimeters (from the tip of the cap to the toe).
When you suspend it, be careful to load it lightly.
Clown is also called pierrot.
Materials of doll
Felt for skin
Polyester fiberfill
12cm length stick (of bamboo or wood) for neck
Cotton batting
Embroidery thread (for eyes)
Woolen yarn
(Ribbon to suspend)
Material for clothes
Cloth for clothes
Cloth for collar (may be the same of clothes)
Felt sheet for cap and shoes
6 pairs of snap fasteners
Elastic or rubber thread
Patterns
Print Pattern out on A4 paper.
Instructions
Application
White face pierrot.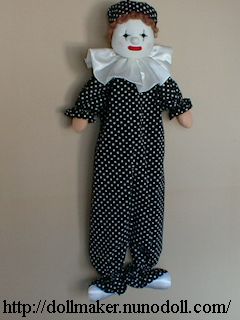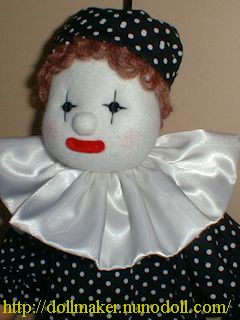 Velveteen clothes. Faces are the same as Basic doll.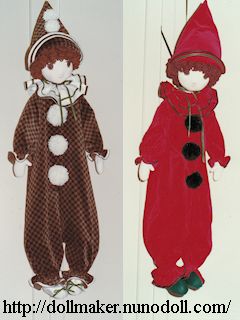 Cloth Doll Making
How to make dolls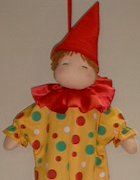 Little red riding hood
Clown pouch
Mini doll
Basic doll
Nekomimi doll
Baby doll
Tall boy doll
1/2 girl doll
Kimono doll
Mermaid merman
Anime dolls
Christmas dolls
Little wedding dolls
Stuffed toys
Clown pouch » Body