Clown clothes
Make the dress durably to wash it sometimes.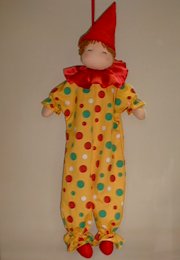 Cutting
Before cutting, a seam allowance of 0.7cm must be added.
But the back needs 3cm margin.
The neckband is a cloth cut on the bias (3cm × 15cm).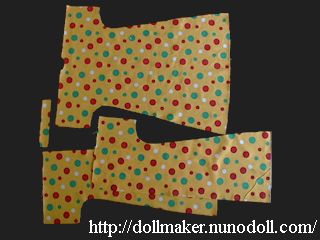 Sewing the clothes
Sew up the middle of back except the opening.
Make the opening three folds.
Stitch.
Sew shoulders.
Finish neckline, using the bias cloth.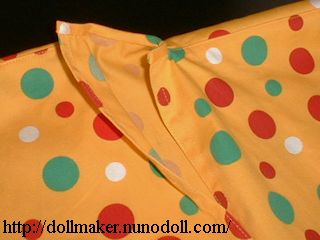 Sew the sides. Sew the leg bottom.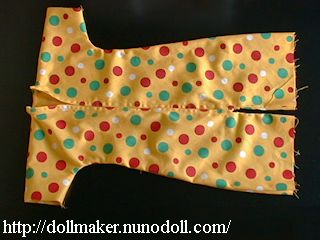 Fold ends of cuffs and stitch.
Gather the cuffs, using elastic.
Sew snaps to close the back. Use zipper, instead, if possible.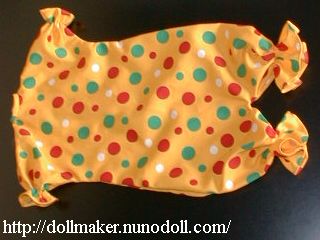 Frill of collar
Though I made it of sateen, you may use any cloth.
Cut cloth in 15cm × 90cm.
Fold the fabric in half lengthwise, down to 7.5cm.
Gather it until 13cm.
Hem it with the bias cloth and sew on snap fastener.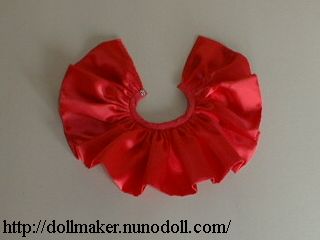 Cap and shoes
Cut the cap pattern in felt.
Sew the cap in a cone shape and stitch the edge.
Turn up edge of cap.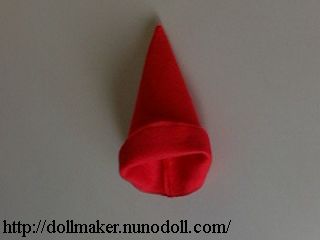 Sew two sheets of felt together in the shape of the shoes.
Notch the sharp curve. Turn inside out.
Stuff with polyester filling.
Stitch the opening closed.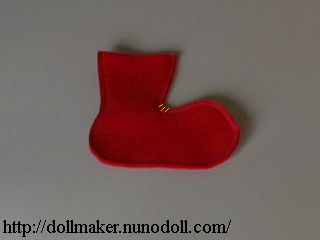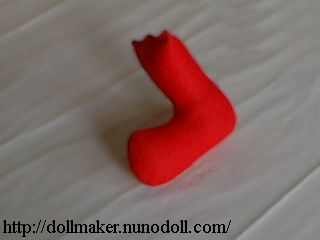 Put on clothes and cap.
Place shoes inside the narrow part of the trousers.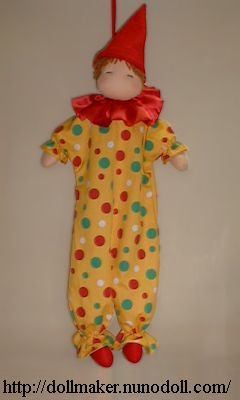 Pattern and instructions