Baby doll Patterns
Read the notes for printing on big girl doll's page.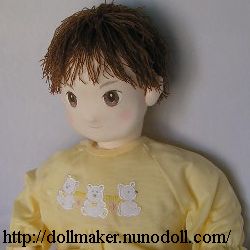 Print patterns
Print them on A4 size paper.
The margin of paper should be small.
Materials
The materiais are rather simple. About materials.
Stretch cloth for skin.
Cotton cloth for the base of the head.
Thin cloth for lining.
Polyester fiberfill and cotton batting.
Thin yarn for hair.
Applicator for nose.
Baby doll in yellow dress and shoes.






Boy Dolls / Life size kids / Anime Dolls / Nekomimi Dolls / Mermaid / Stuffed Animals / 人形 / ぬいぐるみ