Girl doll Patterns
You can print these patterns with your printer.
Print patterns
Pattern files
Process
Each pattern is displayed in another window.
The window is always the same.
Page layout.

Paper size A4. Thicker is better.
Set margin of all sides about 0.5 inches or less.
No header, no footer.
If necessary, the resolution is 96 dpi.

Print out.
Cut out.
Some patterns are separated. Stick the same patterns with an adhesive tape.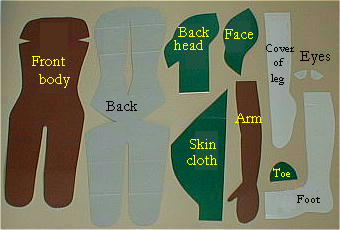 If you cannot see pattern, try below.
Boy Dolls / Life size kids / Anime Dolls / Nekomimi Dolls / Mermaid / Stuffed Animals / 人形 / ぬいぐるみ