Girl doll Head
Stuff the fiberfill hard in the chin.
Sew up the base of the head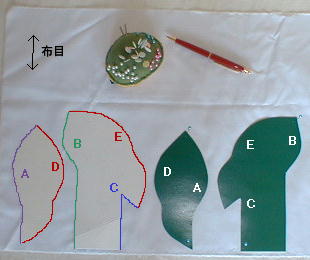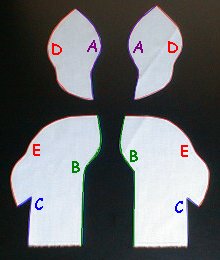 Copy a facial pattern into the white broadcloth with a pencil.
There are 2 patterns. Take each by the front and back, four sheets in amount.
Put a mark for the seam not to shift.
Cut with 1/4 " allowance.
Sew up A and A of front, B and B of back, C and C of back.
Not D and D, or E and E.
Sew up D and E around.
Slit under the chin.
Turn inside out.
Filling with polyester
Stuff into the head with the polyester fiberfill through the opening of the neck.
It is necessary to pack with very much filling.
Stuff the filling into corner solidly.
Don't stuff into the neck.
Put the nose
Cut applicator cotton.
Open a hole on the nose mark, and insert the applicator with glue.
Make the neck
Cut the base cloth of the neck with 4 inch length.
Put some glue on the cloth, and let it roll around the bamboo stick.
This is the base of the neck.
Cut out the rest of the stick.

Control the thickness of the neck (diameter is about 1.5 inches).
Insert the base into the head till the base cloth in.
Stitch the head cloth to the base of the neck roughly.

Sew up skin cloth
It needs 2 type of cloth -- skin and under skin.
Fold each cloth.
Adjust the position of its fold and put a mark with the pencil.
Because the facial pattern contains a margin for a seam, cut as in the line of the pencil.
Sew the inside of 1/5 inches of its curve.
Use silk or nylon thread.

Cover with the skin cloth
Glue a little cotton on the seam of the mandible to conceal the crinkle.

Wrap the head with the under skin cloth.
Make the seam of the back head and the seam of the facial cloth go along.
Fit the crown of the head (the place where four sheets of base cloth together) and an end behind the facial cloth with the pin.
Draw up the cloth of both side head, and make tucks to fit on the head.
Pull cloth and remove a sag.

Stitch the under skin cloth to the base of the head at the bottom and the crown with thick thread roughly.
Wrap with the skin cloth, too. Don't stitch yet.

Boy Dolls / Life size kids / Anime Dolls / Nekomimi Dolls / Mermaid / Stuffed Animals / 人形 / ぬいぐるみ