Cloth Doll Making » Christmas dolls » Angel cat
Angel cat
Stuffed little kitty with lace wings. 10cm tall.
How about an ornament for Christmas tree?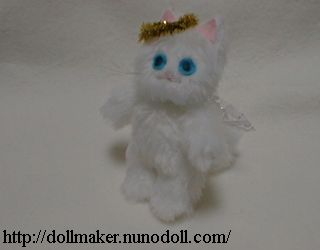 Materials
Short furry fabric or warm cloth.
Felt as eyes and inside ears.
Lace for wings.
Braid for the ring.
Polyester fiberfill.
Pattern
In the page of Mini doll. Arrange them as you like.
Making
Draw patterns on the fabric.
Sew up 2 sheets.
Cut out them.
Turn inside out.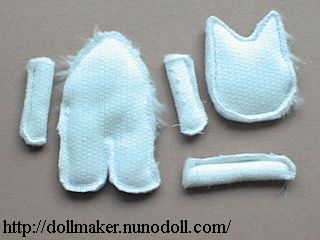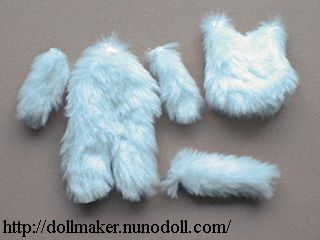 Put fiberfill in them except the tail.
Cut out the eyes and inside ears from felt.
Glue them to the face and ears.
Stitch the nose, mouth and whiskers.
Stitch the head, arms and tail to the body.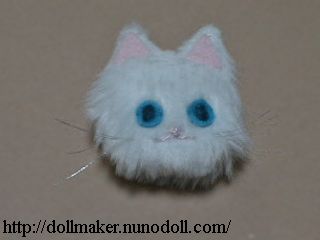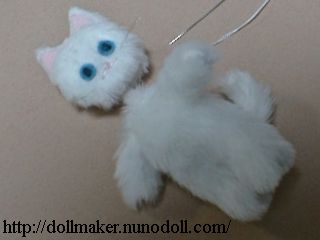 Cut out the lace as the wings.
Stitch the wings to the back.
Attach the ring.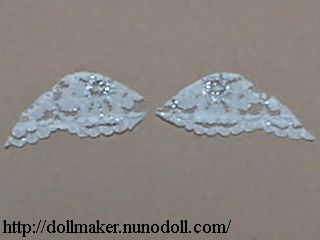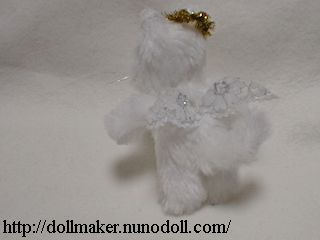 Cloth Doll Making
How to make dolls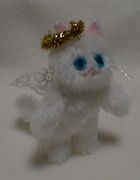 Christmas dolls
Basic doll
Nekomimi doll
Life-size baby doll
Tall boy doll
1/2 girl doll
Kimono doll
Mermaid merman
Anime dolls
Easy dolls
Little wedding dolls
Stuffed toys
Privacy policy