Cloth Doll Making » Christmas dolls » Santa Claus Doll
Santa Claus doll
Santa Claus doll whose clothes can be taken off except boots.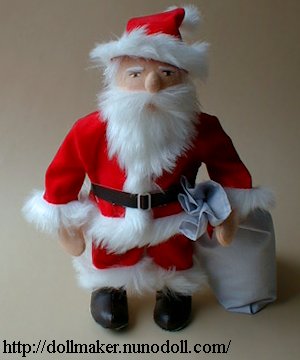 This Santa Claus is 31 centimeters in height.
If you print the patterns shrinking or enlarging, you make your Santa Claus in any size.
Patterns
Print out on A4 paper. The margin of paper should be small.
Materials
Felt (skin)
Polyester fiberfill (filling)
Cotton batting (neck)
Stick (neck core)
Furry yarn (hair and brows)
Leather or felt (boots and belt)
Wool or cotton cloth (clothes)
Furry cloth (beard and trimming)
Thick paper (sole)
Snap fasteners
Elastic
Furry fabric.
Brown imitation leather, red velveteen.
Polyester fiberfill, furry yarn.
Felt for skin, cotton batting.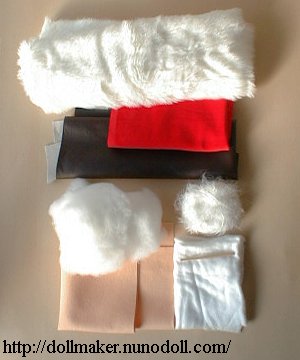 Tools
Sewing kit (sewing machine, needles, scissors, awl, chalk, and so on)
Threads
Craft glue
A stick to stuff
Rouge for cheeks
Color for painting face
Instructions
Santa Claus doll in woolen costume. Made with the same method.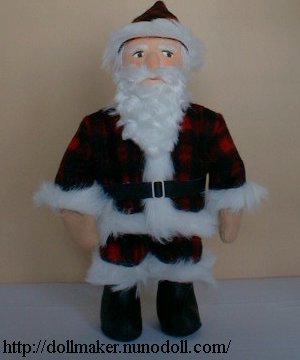 Cloth Doll Making
How to make dolls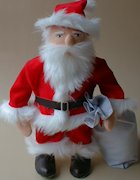 Christmas dolls
Basic doll
Nekomimi doll
Life-size baby doll
Tall boy doll
1/2 girl doll
Kimono doll
Mermaid merman
Anime dolls
Easy dolls
Little wedding dolls
Stuffed toys
Privacy policy