Cloth Doll Making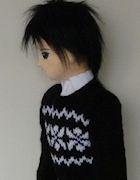 Here are a lot of cloth dolls and stuffed toys.
I show you my knowledge and technique about making.
You will learn by yourself how to make a doll or plush.
You can get printable patterns of most dolls.
Though my explanation may be poor,
numerous pictures will help you to understand the process.
Tutorial and instructions are written by Runo.

Sponsored links




How to make dolls
Advertisements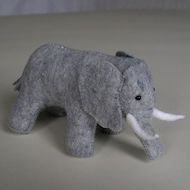 Elephant of felt. Small but stout.
Links
Life size Dolls babies, toddlers, girls, men.
Mermaid Fantasy mermaid and merman dolls.
Guest Dolls --- pics of visitors' handmade dolls.
There are lots of lovely wonderful dolls.
I hope you write a comment about other's picture.
Site map --- http://dolls.nunodoll.com/sitemap.html
Sewing --- Hat, cap, bag, sweatshirt.
Hanty handmade underwear for ladies.
Cute Underwear Making for men.
Nuno Life (blog) --- Blog.
Notes
1 centimeter (1cm) = 10 millimeters (10mm) = 0.39 inches.
When using scissors or other implements, be careful.
I am not responsible for any injury you may incur.
I never send or sell any pattern nor instruction.
You get only patterns which I've already provided on the web.
E-mail, FAQ, privacy policy, and "question & answer board".
I'm glad if you link to my page. This is my banner.
http://dollmaker.nunodoll.com/
Copyright © 2014 Runo. All rights reserved.