Materials and patterns
You can print the patterns from your printer.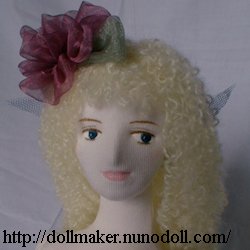 Materials of doll
Cotton cloth for bases.
Stretch fabric for skin.
Thin cotton cloth for lining of arm.
Thick wirefor the core of neck.
Thin wire for nose and fingers.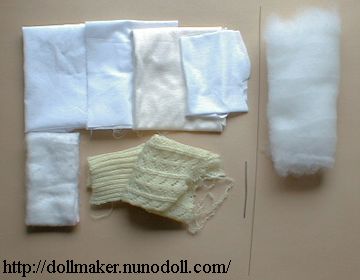 White broadcloth, white lawn, skin fabric, white fabric, wire for arm, polyester fiberfill,
cotton batting, piece of mohair sweater for hair, heavy wire.
Other materials
Fish body --- You may use any cloth.
Metallic or lustrous cloth is suitable.
Lamé or spangle is also good.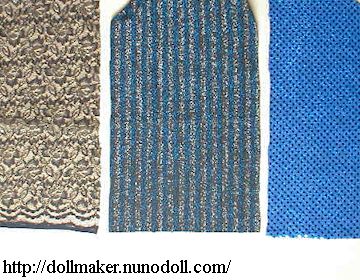 Fins --- Mesh, net or tulle.
Transparent cloth I recommend.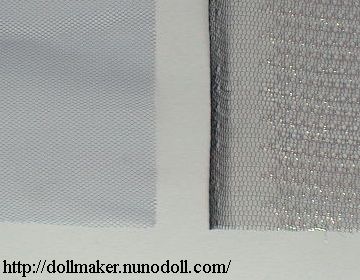 Brassiere --- Any cloth. I used nylon tricot here.
Hair ornament --- Any cloth. I used 5cm width organdy ribbons.
Arranging cloth flowers. Refer to Ornaments of Kimono doll.
Tools
Sewing machine, sewing kit.
Pliers. Tacky glue.
Long strong stick (helps to stuff).
Acrylic colors to paint eyes and lips.
Rouge for cheeks.
Making patterns
Required thick paper A4.
When printing, set margin less. No header, no footer.
Cut out.
Each pattern is displayed in another window.
The window is always the same. Sometimes it is hidden.
Mermaid
Merman
Face skin, fish and fins are common.
You may arrange the length, width or form.