Cloth Doll Making » Christmas dolls » Slim Santa » Clothes
Clothes for Slim Santa
All clothes can be taken off.
I used navy blue cloth and white fur. Also brown cloth and ermine fur are good.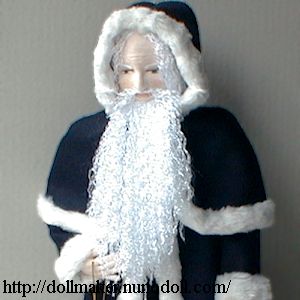 Materials
Woolen cloth for coat, cape and pants.
Furry fabric tape (5cm width).
Hook and eye.
Ribbon
Elastic tape in the waist of pants.
Thin leather for boots.
Thick paper for insoles.
Thick leather for soles.
Cutting
Draw the patterns on woolen cloth and cut them out with 0.5cm margin.
But no margin to the hem which is trimmed with furry tape.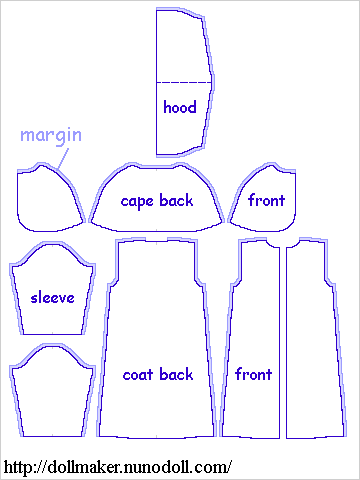 Coat and cape
Sew up the shoulders of the coat.
Sew the sleeves to the bodice.
Sew the sides.
Trim the neckline to the hem and the cuffs with furry tapes.
At the corner, gather up the tape.
Attach hook and eye to the front.
Sew up the top of the hood.
Sew up the sides of the cape.
Sew the hood to the cape.Trim with furry tape.
Stitch ribbons.
Boots
Sew up the insteps of the boot at the front.
Sew the toe to the instep.
Sew up the back.
Gather up the margin of the toe with small stitches.
Glue the instep to the paper insole.
Glue the sole to the insole.
Glue a furry tape to the hem.
Also Refer to Tall boy's shoes.
Pants
Same as Santa in red.
No trimming.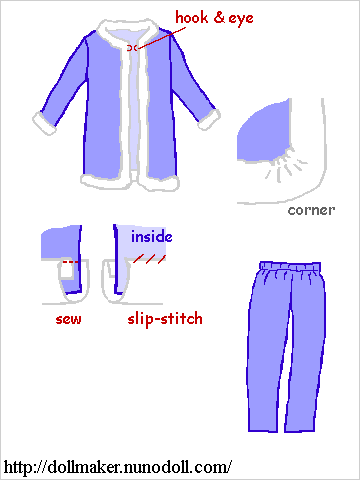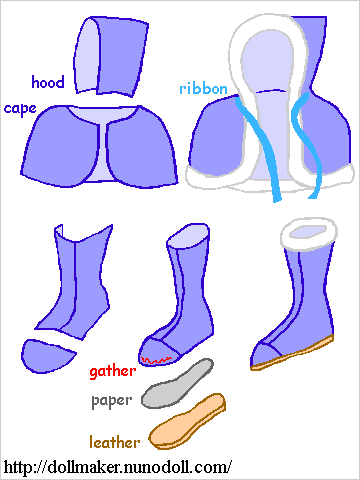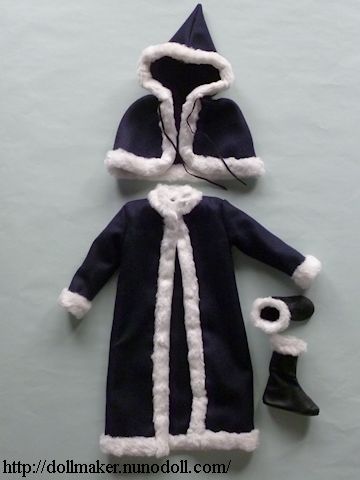 Pattern and sewing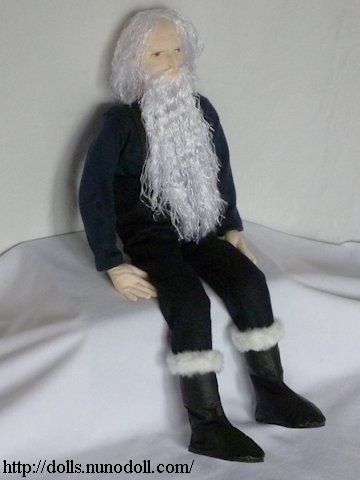 Cloth Doll Making
How to make dolls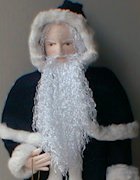 Christmas dolls
Basic doll
Nekomimi doll
Life-size baby doll
Tall boy doll
1/2 girl doll
Kimono doll
Mermaid merman
Anime dolls
Easy dolls
Little wedding dolls
Stuffed toys
Privacy policy