Boy doll / Pattern and material
You need not use anything special. Try to use materials which you get easily.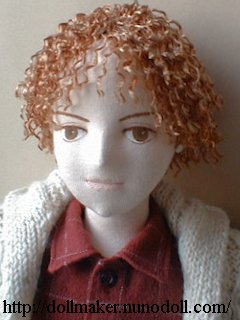 Materials I used
Thin broadcloth for bases.
Stretch fabric for skin. It wraps the base.
Bamboo stick is core of neck.
Wires for fingers and nose.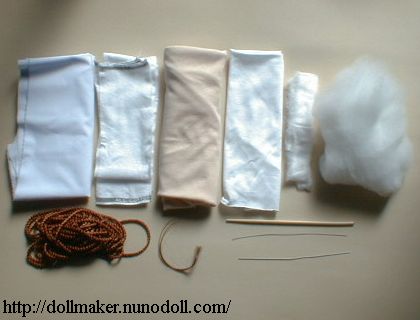 White broadcloth, cotton flannel, skin color fabric, white fabric, cotton batting, polyester fiberfill.
Cord for hair, artificial hair for lashes, stick, wires.
Referring: About materials.
Tools
Sewing machine, sewing kit, long needle.
Pliers, glue, long strong stick to stuff.
Cloth-oriented colors to paint eyes and lips.
Making patterns
Need rather thick paper of A4 size.
There are 11 files of doll and 6 of clothes.
Print them. Set the margin minimum.
Cut out.
Big patterns are divided into 2 or 3 parts. Stick together with adhesive tape.
Pattern files
Each pattern is displayed in another window. The window is always the same.