Cloth Doll Making » Basic doll » Materials
Basic doll / Materials and tools
Please refer to materials page too.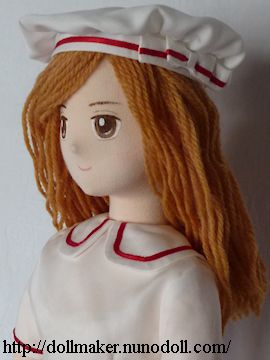 Materials of doll
Cloth for bases.
I use cheap cotton cloth which is rougher than broadcloth.
A doll of cheap cotton is fatter than broadcloth doll only a little.
Stretch fabric for skin.
Cloth for base of neck. I use cotton flannel.
Soft and thick cloth is good ... towel, wool, or fleece.
Cloth for lining of arm and ear.
I use cotton lawn. Thin cloth is OK.
An applicator cotton for nose.
Stick is the bone of neck. I use bamboo chopstick.
Polyester fiberfill.
Cotton batting.
Woolen yarn.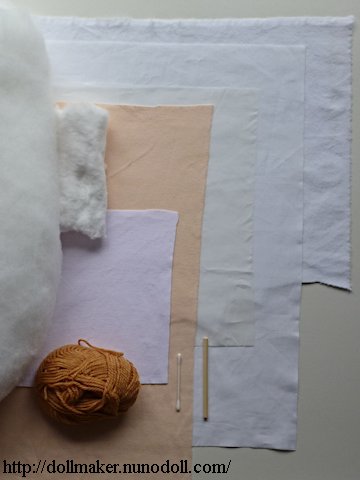 Fiberfill, cotton batting,
yarn, applicator, bamboo stick,
white stretch fabric, stretch fabric of skin color, cotton lawn, cheap cotton cloth, cotton flannel.
Tools
Sewing kit (sewing machine, needles, scissors, awl, chalk, and so on).
If you don't use a sewing machine, hand-sew with small back stitches.
Threads.

Ordinary thread for base sewing. I use polyester. But silk is better.
Thick thread for jointing.
Silk or nylon thread of the same color as skin.

Tacky glue.
Big stick for stuffing.
Thin stick (like a knitting needle) for turning.
Acrylic colors and small brush. I use Ceramcoat.
Rouge for cheeks.
Scale and rule.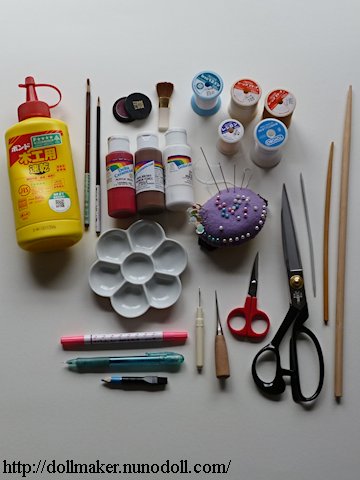 Glue, brushes, powder rouge, threads,
colors, needles,
palette,
marker, pencil, chalk, ripper, awl, scissors, sticks.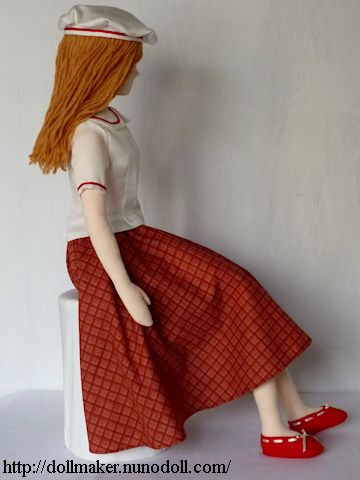 Cloth Doll Making
How to make dolls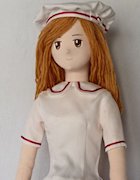 Basic doll making
Tall boy doll
1/2 girl doll
Kimono doll
Mermaid merman
Nekomimi doll
Life-size baby doll
Easy dolls
Anime dolls
Christmas dolls
Stuffed toys
Privacy policy