Legs of kimono doll
Tabi are Japanese socks. It's difficult to make real tabi.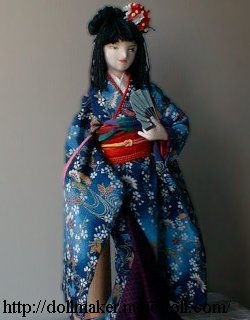 Tabi
I suggest easy tabi which can't be taken off.
Draw the patterns on white velveteen. (You may use any color, any cloth.)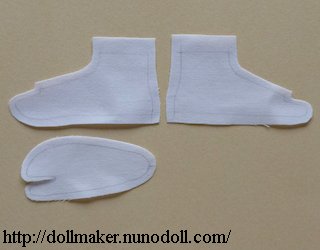 Sew up insteps at the front and back.
Stitch the sole to the instep.
Turn inside out.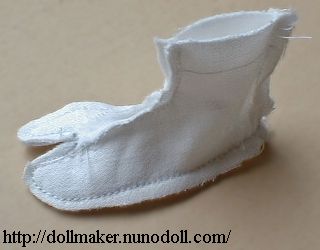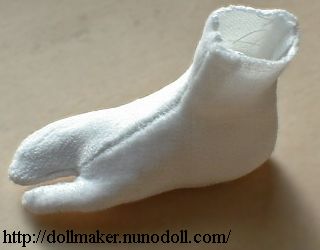 Stuff sticks of cotton batting into the toes. It's like Tall boy's foot.
Stuff polyester fiberfill into the tabi.
Legs
Fold cloth for base (I use broadcloth) which has stretch fabric inside.
Stretch fabric is narrower than broadcloth a little.
Draw the pattern on broadcloth.
Sew outline.
Cut it and turn inside out.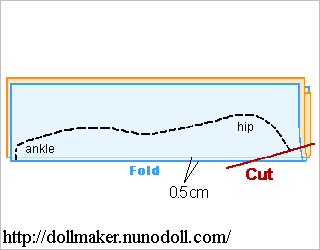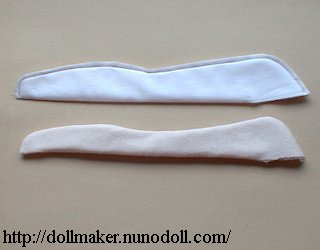 Stuff with polyester fiberfill in the ankle.
Put a wire in the leg.
Bend the end of wire and glue some cotton batting for safety.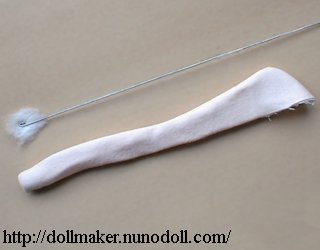 Stuff fiberfill into the leg solidly.
To keep the wire in the center, wrap it with fiberfill spirally.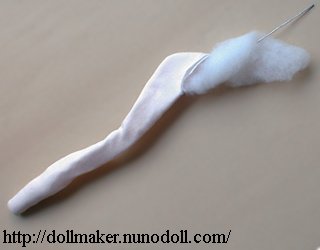 Put the ankle in the tabi.
Fold the opening of tabi inside and stitch it to the leg.