Pattern of kimono doll
Preparation on Japanese doll making. See also About materials.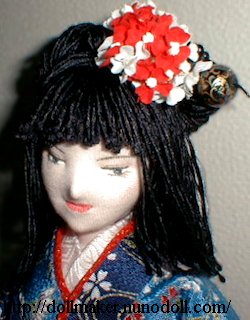 Materials for doll
Cloth for bases.
Stretch fabric for skin.
Thin cloth for lining of arm.
3 types of wire --- the thickest is the core of neck, the middle is bone of the legs and nose.
And the thinner is for fingers.
The materials I used.
White broadcloth, stretch cotton (skin color and white), white cotton lawn, polyester fiberfill,
cotton batting, wires, black silk yarn.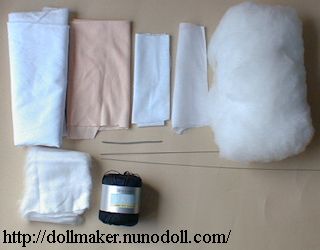 Materials for clothes
Japanesque cloth (e.g. chirimen, shibori) is good for kimono.
Lustrous cloth on which printed flowery pattern is better.
Hard cloth embroidered with golden or silver thread is suitable for obi.
But you can use any cloth.
Tools
Sewing machine, sewing kit.
Pliers, tacky glue, long strong stick (helps to stuff).
Acrylic colors to paint eyes and lips. Rouge for cheeks.
Picture of tools.
Making patterns
There are 6 files.
Print on A4 paper.
Set margin less. No header, no footer.
Cut out.
Kimono and juban are overlapped. Print 2times. The red line is juban.
They are divided into 2 parts. Stick together with adhesive tape.